Created during an artist in residence at the Chinese European Art Center in Xiamen, integrated within the '40 Titles' project. This is the second version in 2015 within total installation '40 Titles II', including the left over 'floating rocks' from the first installation. They were transported to Europe by airplane as luggage.

The installation is presented in changing appearance, related to site and environment...
Changing appearance...
The video reflects the aspect of uncontrolled change, as the pillowslip is being washed by the sea on the shore. It might be looked upon as representing a fascinating image of natural sculpture process raising various questions of artistic, philosophic and environmental kind. Besides that it could also be interpreted in a metaphorical way…

Image: Still. Click on the image link above to watch an excerpt.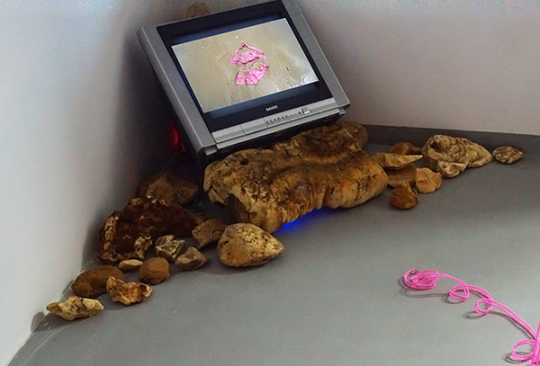 First presentation at CEAC, 2014. Some 'floating rocks' were integrated in local waste management.
Related to other work...
The aspect of the uncontrolled and change over time is part of my work since I started to use visible residue of actions within my paintings, like including coffee marks in water colour paintings and a series of overpainted reproductions using self mixed compounds that changed color in time in my early works around 1996.

The action that allows something to happen, and the incorporation of aspects that enable uncontrolled change. Comprehension is just a part of a constant changing perspective.

Photo:'Floating rock formations of an artificial kind', photo (digital) / installation, 2014 - 2016
Sand...
is a recurring material and theme in my work. It started with installation 'Sand' (2010), based upon a series of photographs in which drifting objects are casted into the beach sand by the force of the tide. Later I did a series of sand and how it behaves when transported by water over a hard surface. One of these works were translated into large screen print 'Shift' (available). The project is ongoing...